Remote workers. Off-site meetings. Flexible schedules. Multiple communication channels …and numerous ways to share information. Such are the challenges of a modern workplace. Navigating it can be difficult. Let's be tomorrow ready.
Get the right strategy and solution in place and not only will you be better positioned for business continuity during times of adversity, but also have the flexibility and scalability of platforms that will grow with you as you achieve various business milestones.
Enterprise-grade security to protect your confidential data.
Powerful data analytics to drive insightful and informed decision making.
Round the clock collaboration to boost staff engagement and efficiency.
Intelligent applications to optimise productivity like PowerApps, PowerBI, Automate.
We work alongside with our clients to strategies their technology pathway by understanding their business challenges and goals. After gaining a thorough understanding of our client business processes using methodologies like design thinking and business analysis. We implement the finalised plans and make sure that we continue our support post implementation to our clients to make sure they leverage all the benefits provided by the solution.
Free IT Strategy Workshop

To unite in the fight against Covid-19 – we want to help businesses expand their IT horizons and become more digitally resilient.
Book a free IT Strategy Workshop with our award-winning digital strategists NOW and get:
A TWO HOUR FREE IT Strategist session ​
Follow-up by our Horizons Recommendation Report (inclusive of 2 tactics you could implement immediately to improve your IT position, 1 tactic you could consider for the future).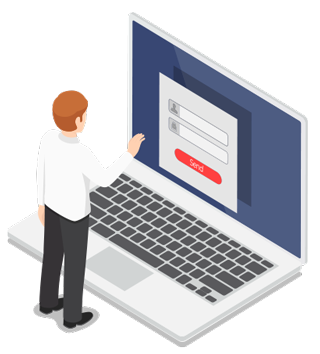 St. Agnes Catholic Parish enables the elderly to take the correct decisions for the next steps of their lives by giving them several accommodation and care giving options. St. Agnes Catholic Parish streamlined numerous processes by consolidating them onto a single platform of MS Dynamics 365. The Exigo Tech team migrated St. Agnes Catholic Parish from Office 365 to MS Dynamics 365 which helped them automate several processes, improve productivity and enhance efficiency. With the latest technology platform in place, St. Agnes is ready to adapt future technologies.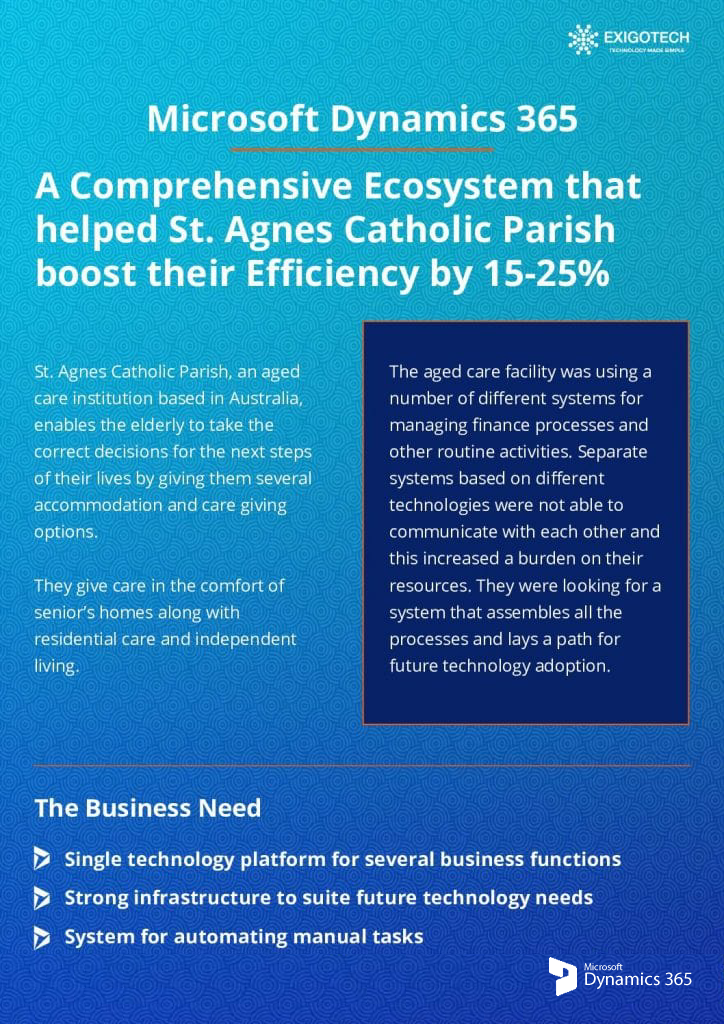 More reasons to choose Exigo Tech as your Technology Partner
At Exigo Tech, we believe that business considerations should drive IT solutions rather than the other way around.
EFFICIENCY
At Exigo Tech, we are preoccupied with providing IT solutions that deliver on the efficiency front. In order to achieve this, we ensure that our staff is armed with in-depth knowledge of emerging technologies and that we keep abreast of developments in the area of IT best practice.
CONTINUITY
We provide IT solutions that keep on delivering. At Exigo Tech, we believe in the Three 'Rs': Reliability, Resilience and Recovery. We work to deliver IT solutions that you can count on, that will stand the test of time and, crucially, that are recoverable.
BUSINESS DRIVEN
At Exigo Tech, we do not dictate terms nor do we saddle our customers with unnecessary hardware or services. We only seek out and implement tailored IT solutions that are relevant to your needs.